Domenica Mazzola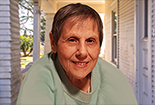 For Domenica Mazzola, loyalty has been one of her most notable characteristics and a point of personal pride. She was born in New York and has lived there all her life; she worked as a legal secretary for 45 years, 35 of those years with the same firm; and she has been a long-time supporter of the Muscular Dystrophy Association.
"I remember watching the very first MDA telethon with Jerry Lewis back in 1956," Domenica said. "It was broadcast from New York City. That first telethon raised $1 million, and back then that was a big deal. Such a huge amount of money! After that, I always watched the telethon each year."
Though the telethon eventually moved its main broadcast to Las Vegas, Domenica still watched over the years. "Each year of the telethon, I could see the strides MDA was making in the fight against muscle diseases," Domenica said. "You could see the difference and how things were improving." That's why, when she created her estate plans, Domenica decided to include a gift in her will to MDA.
"Since I worked with attorneys my entire career, I was keenly aware of the importance of creating and updating my plans," Domenica said. "Since I do not have any close relatives, I've decided to use my will to leave gifts to charities I care deeply about, including MDA. I want to control what happens to my assets, so that's why I've made this decision.
"Thanks to MDA's work over the years, life expectancies for people with muscle diseases are much longer. I hope my gift will help kids with muscle disease live even longer, more comfortable lives. And I want people to be as independent as possible."