Pat Riley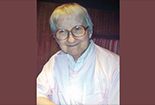 If you would like to see what a leprechaun grin looks like, you only need to meet Pat Riley of Hobe Sound, Fla. For more than 14 years Pat has been an MDA office volunteer, summer camp sponsor, Telethon volunteer, generous donor and most recently a Legacy Society member. You might ask yourself how a Detroit native — an only child of devoted parents and a retired Bell Telephone employee — developed an interest in and commitment to MDA's mission of finding cures and treatments for neuromuscular diseases.
The story began at Patricia Lee Riley's birth. She was delivered with the use of forceps that damaged important motor nerves. Pat was left with a partially paralyzed right arm and weakened right leg. Because of these physical challenges, Pat grew up attending school, summer camp and other programs with children living with various physical disabilities.
Pat experienced 12 years of corrective orthopedic surgeries, but she chooses to recall good memories from those years. At age 5, she remembers being the youngest camper at Camp Grace Bentley on Lake Michigan, where she was given a doll and enjoyed swimming, arts and crafts and songs around the bonfire. Pat also remembers boat rides on the Detroit River, annually sponsored by the Rotary Club.
After high school graduation, Pat's first job was with the Merrill Palmer Nursery School, where she provided clerical support to the staff psychologist. Then Pat enjoyed a 29-year career with Michigan Bell Telephone Company, working in their engineering, construction, fleet and installation departments.
In 1981, Pat retired to Hobe Sound, Fla. But she didn't really retire — Pat started a career of volunteering. First she volunteered for the Hobe Sound Ambulance Company for 18 years. Then she volunteered for MDA for 14 years.
Pat's association with MDA began when friends invited her to join them at the local broadcast of the Palm Beach County MDA Telethon in 1998. Later that year Pat attended the Children's Holiday Party; one event led to another and Pat began volunteering at her local MDA office. After attending MDA summer camp the following summer in Bradenton, Fla., Pat was totally hooked on MDA's mission.
Pat helped in so many ways. She sponsored the camp Tshirts for the kids and counselors. She also sponsored disposable cameras and camp auction items. Since that first telethon, Pat has become friends with many MDA family members, and her generosity extended into other areas in the Association.
Because Pat learned to successfully use her right hand, adjusted to a wedge in her right shoe, attended special schools and camps, learned to drive a car and perform all the daily tasks at work and home, she has a very personal empathy for others experiencing physical difficulties.
Because of her own challenges, Pat has always thought about ways she could help others with challenges of their own. She consulted her financial, legal and insurance advisors. They suggested ways she could support her favorite charities and realize tax advantages at the same time.
Pat's devotion and commitment to MDA's mission were again witnessed when she recently told us that MDA would receive a bequest from her estate. Providing help for future generations, ensuring the continuation of extraordinary research, and just plain helping others is part of the fabric of Pat's life and legacy. MDA is very grateful to have this special "Irish guardian angel" as a member of our family.
A true sense of friendship and family exist between Pat and everyone she touches. She remembers every one and follows them on Facebook if they have a home page. While she doesn't travel much anymore, Pat follows MDA all over the country via the Internet. In true Irish fashion, Pat Riley says:
"These things I warmly wish to you, Someone to love,
some work to do, A bit o' sun, A bit o' cheer,
And a guardian angel always near."
— Irish saying