Rick Levy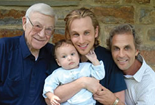 Rick Levy, entertainer, songwriter and president of a full-scale personal representation company, says, "I'll never forget watching my first MDA Labor Day Telethon in 1966. I gave a $5 donation and haven't missed a year since." That makes Rick a loyal donor in anyone's book. Rick's philanthropic spirit recently came full circle when — after a lifetime of giving — he decided to make the ultimate gift by including MDA in his estate plans. By making a bequest and telling MDA about his plans, Rick has become one of the newest members of MDA's Legacy of Help & Hope Society.
Born and raised in Allentown, Pa., Rick's successful music career started in high school with the creation of his own garage band, "The Limits." After graduating from the University of Pennsylvania, Rick found a way to combine his love of music with his keen interest in the welfare of children by producing music education videos and other optional teaching aides for middle school students. He later went on to become the lead guitarist and bandleader for Herman's Hermits, starring Peter Noone. In his current role, he is the musical director for such outstanding '60s artists as Jay & the Techniques, Tommy Roe and Freddy Cannon.
These days, Rick is the proud father of Jonah, 35, a successful special-effects artist, and proud grandfather of 5-year-old Brayden, with another grandchild due in December. When not touring, Rick enjoys spending lots of time at the beach near his home in St. Augustine, Fla., and cherishes the value of family and simple pleasures. "Ever since I was young, I've always thought about the value of medical research and the importance of good health care," he says. As a phone bank volunteer for his local MDA Telethon, Rick learned at an early age about the difficulties experienced by people living with muscular dystrophy. He learned that there were kids and adults in his own community who looked to MDA for answers, hope and help.
This early awareness, coupled with his respect for medical research, prompted Rick to give according to his ability to do so. As his career flourished and his income increased, so did the amount of his donations. Rick also visited MDA summer camp, was a Telethon star board sponsor for many years, and regularly followed advances in neuromuscular disease research.
Loyal donors like Rick Levy almost always make bequests through their estate plans in order to continue supporting missions close to their hearts. Rick's bequest to MDA is his way of ensuring better treatments and cures beyond his lifetime. Like any good father, he wants to see every child enjoy a healthy and happy life — just like the ones enjoyed by his son Jonah, daughter-in-law Michelle and grandson Brayden.
Join Rick as a member of our Legacy of Help & Hope Society. Please consider making a bequest to MDA.