Marilyn Melton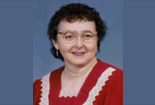 Since the first broadcast of the Jerry Lewis Labor Day Telethon in 1966, Marilyn Melton of Minnesota has been a loyal Telethon viewer and supporter, and has been touched by the stories of individuals and families who have been affected by neuromuscular disease, especially the children.
Her love and concern for children has been reflected in all aspects of her life. As a mother of two preschoolers in the early 70's, Marilyn brought four more children into her home to begin a home day care. Over the years, she advanced her career as an early childhood specialist and certified vocational teacher, taught early childhood development to adults, and served on the committee for the revision of state certification standards for group family day care throughout Minnesota.
Marilyn's connection to MDA became even more personal when she "met" Mattie Stepanek on the Telethon. She followed him through his television appearances with Oprah and Larry King and through the wisdom of his poetry and short stories. Already a fan of Billy Gilman, she was overwhelmed with joy when Mattie and Billy partnered on Telethon and in Music through Heartsongs.
In addition to regular gifts to the Association, Marilyn has made provisions in her estate plans to benefit the MDA and its Summer Camp Program. Having impacted the lives of children for decades, she hopes her bequest to MDA will continue her legacy of changing lives for the better and of helping to free the world of neuromuscular disease.
Marilyn's favorite quote:
"100 years from now it will not matter what kind of house you lived in, what car you drove, or what clothes you wore: the thing that is most important is that I was important in the life of a child."