Rosealie Lesser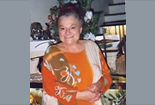 Members of MDA's Legacy of Help & Hope Society are people who will help MDA even after they've passed away. Legacy Society members have taken two very important steps:
1. They've made a deferred gift to MDA such as a bequest or a charitable gift annuity, and
2. THEY'VE TOLD US ABOUT THEIR GIFT INTENTIONS!
Rosealie "Roz" Lesser is a new member of our Legacy Society, but she isn't new to MDA. In fact, Roz and her husband attended their very first MDA special event, a gala, in 1994. The event was called "The 12 Days of Christmas" and included an auction. Roz, who is an avid Florida State University (FSU) Seminole football fan, was the high bidder on an autographed football from the Seminoles' 1993 national championship season.
While enjoying the excitement of the gala and buying the autographed football, Roz's husband turned to her and said, "MDA is a great organization, and we need to help it." Roz agreed. Since then, she's never stopped helping MDA. As a matter of fact, one could say Roz is as passionate about her volunteer work for MDA as she is about her FSU Seminoles &nash; we're talking "fanatic!" You see, Roz immediately volunteered to help with the same gala that she and her husband had just attended as donors. That wasn't enough for Roz; she also volunteered to help her local MDA office. While in the office, Roz met and befriended several of Jerry's Kids &nash; children and adults with neuromuscular diseases. During those years as an office volunteer, Roz realized she could do more to help MDA.
To Roz, "doing more" meant two things:
1. more volunteering, and
2. making a significant bequest via her estate plan.
"More volunteering" involved the Telethon. Roz's decade of dedicated support during Telethon is unsurpassed. To this day, she provides the coffee, tea and juice service for those involved with her local Telethon. Roz has been asked on many occasions to go on-camera during the Telethon to represent her fellow volunteers and ask viewers for more financial support.
When Roz goes on TV and asks others to contribute to MDA, she does so from a position of great integrity. You see, Roz has created an estate plan. She has named MDA as one of the beneficiaries of her estate. Roz has made the "ultimate gift" to MDA, and when asked why, she has three responses.
"You get an incredible feeling when you give." "I could not live in good conscience if I spent all my assets on myself instead of giving them to my beneficiaries."
"If my bequest will enable just one child with muscular dystrophy to live a more comfortable life, then I will feel whole."