Jane Kievit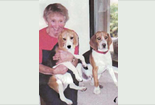 Hope can be defined as "a belief that a desired outcome can be achieved." Jane Kievit has hope; it has been a common theme throughout her life. In the spring of 1945, Jane completed her degree at the University of Wisconsin-Milwaukee. She and three friends decided to "go on an adventure" and teach in "some exotic place." In those days, any move away from home - wherever it was - was a bold, hopeful move. Long Beach, Calif., was the exotic place of choice for these four young ladies, and in the fall of 1945 they began their careers in education there as classroom teachers.
A couple of months later, during the long Thanksgiving weekend in November 1945, Jane met Henry F. "Hank" Kievit, just two days after his discharge from the U.S. Coast Guard.
Hank was the kind of person who believed hard work and a positive attitude could overcome anything. For example, Hank had poor physical abilities, which later in his life would be attributed to limb-girdle muscular dystrophy. Despite his physical challenges, Hank exercised daily to try to build up his muscles. His work paid off when he went back to school on the G.I. Bill and earned a spot on the swim team at the University of California-Los Angeles. Hank went on to become an attorney, undertake a career with the Internal Revenue Service, and start a wise investment strategy for his and Jane's savings.
Hank and Jane were married for 57 years, until Hank's death in June 2007. After Hank's muscular dystrophy diagnosis, he and Jane decided not to have children; she had her classroom full of children, and they both doted on their beagle dogs.
During their years together, Hank and Jane lived life to the fullest. They traveled the world, a hobby they continued even after Hank required a wheelchair for mobility. He had an upbeat, hopeful attitude and never let anything - not even neuromuscular disease - get in the way of what he wanted to do.
In 1982, Hank helped a friend establish a limited partnership which became QUPÈ, a winery on California's Central Coast specializing in the production of Rhone varietals. Hank helped with the winery's accounting and even had a hand in choosing the winery's name. When Hank and Jane retired, they built their dream home on 20 acres near the winery's vineyards. The 2008 bottling of QUPÈ's "Bien Nacido Cuvee" was dedicated to Hank, the "Godfather of QUPÈ." Today, Jane's energetic beagles, Albert and Dolly, live in the dream home; they let Jane live there too!
To hear Jane speak about Hank, one quickly learns that he was the love of her life and the "King of Hope," for he never wavered from a belief that with hard work and a positive attitude, a desired outcome always could be achieved. Jane shares that belief to this day. Legacy of Help & Hope Society members have hope too. They believe MDA's mission to find cures and treatments for muscular dystrophy will be realized one day. Jane became a Legacy Society member by making a gift to MDA via a bequest in her estate plans, and then notifying the Association of her gift intentions. If you already have or are thinking about making a bequest to MDA, then call Jade Bristol-Verity, Esq. National Vice President, Legacy Gifts, at (800) 223- 6011. Your Legacy Society membership is important to MDA's future!
Hank's last words to Jane were, "Thank you very much."
For living a life full of hope, for having a positive attitude and for their belief in MDA's mission, we also extend our thanks to Hank and Jane!