Lenore Emmanuelli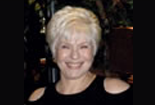 After a few seconds in the presence of Lenore Emmanuelli, one immediately thinks of the phrase "larger than life." And after meeting this colorful, caring human being with blue eyes and a magnanimous smile, everyone becomes an instant friend.
Lenore gained our attention when she called MDA's South Florida office to ask for the Association's correct name and the legal language needed to include MDA in her estate plans. Getting to know our Legacy members is a special experience for all of us at MDA, so Lenore's inquiry triggered a follow-up call from MDA's local Director of Special Gifts & Philanthropy. The call was followed by a personal visit, and Lenore was eventually presented with MDA's Legacy of Help and Hope certificate.
Through phone calls and personal visits, MDA learned that Lenore was born and raised in Brooklyn, N.Y. Like many of us, Lenore recalls watching the Jerry Lewis MDA Telethon year after year on Labor Day weekend. More importantly, Lenore remembers that her family always made a gift to MDA by sending a check. For Lenore, her family's example translated into a lifelong practice of giving to and helping others.
After Lenore's husband passed away, she knew she needed to revise her will. While working out the details of a revised estate plan, Lenore developed a strong friendship with a person who currently struggles with myotonic muscular dystrophy, one of the nine forms of muscular dystrophy in MDA's program.
Over time, Lenore watched the disease progress, and witnessed its devastating effects on her friend's physical and emotional health. For Lenore, the effects were heartbreaking. But, true to form, this larger-than-life person opened her heart and decided to play an important role in fighting neuromuscular diseases. In honor of her friend with myotonic MD, Lenore made the ultimate gift by naming MDA a partial beneficiary of her estate.
Winston Churchill once said, "We make a living by what we get, but we make a life by what we give." If Lenore and Winston Churchill were contemporaries – and Lenore is very quick to point out that they were not – Mr. Churchill easily could have been describing Lenore!
Lenore invites you to join her in providing hope for those children and adults with neuromuscular diseases. Make a bequest to MDA through your estate plan. Your generosity will enable MDA to continue its fight to eradicate neuromuscular diseases.