Herb and Davida Aronoff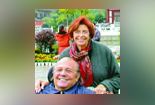 Herb and Davida Aronoff have been viewers of the Jerry Lewis MDA Labor Day Telethon for many years. Herb's diagnosis of CIPD, a rare neurological disorder, has made him empathetic to children affected by neuromuscular disease and the importance of ongoing research.
In 2003, after reading more about Jerry's Kids and MDA, and with a lot of thought and prayer about the best way to help, the Aronoffs chose to give to MDA. At the same time they met one of Jerry's Kids, Lorinda. This meeting helped them realize the impact they could - and did - have on even just one child, and was the impetus behind their choice to make further gifts to the Association.
They decided to use the charitable gift annuity as the vehicle for a planned gift. Their gift choice was driven in large part by the progression of Herb's disease and their desire to guarantee Davida's well-being. "The annuity was a vehicle that helps us, and helps you [MDA], since it is very difficult to do an outright donation in our position," says Davida.
Philanthropy is a fundamental principle in the Aronoff household. "It is our duty to try and help, as much as we are able to, those less fortunate than ourselves," says Herb. To be sure that their philanthropic investment was being placed with an organization where it would truly make a difference, the Aronoffs took the time to research how MDA spends its money, and discovered that the Association's practices are guided by standards of the American Institute of Philanthropy and the Wise Giving Alliance of the Better Business Bureau.
With the knowledge and reassurance that their gifts are being used wisely, the Aronoff's philanthropic spirit continues, and they look forward to the summer and sending a child to MDA summer camp.
The Aronoffs live by a philosophy of giving. Says Herb, "Tomorrow morning, when you wake up, find someone less fortunate than yourself, and help in whatever fashion you are able to do so."