Chris Shimon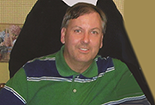 When Chris Shimon says, "I like to stay busy," he isn't joking.
The youngest of five children, Chris started his first business—landscaping and helping seniors with various odd jobs—when he was only 9 years old. "Then I had a paper route, and in high school I was on the track team," he says.
Now, at the age of 53, Chris is an assistant activities coordinator at a care center for seniors. "When I was young I was always friends with older people, and now working with seniors is my expertise," Chris says. "I have really enjoyed working here for 12 years because each of my clients is like family to me. I just love helping others."
His giving nature is also reflected in Chris' volunteer work in the Cedar Rapids, Iowa community. In addition to his work with the Alzheimer's Association and other organizations, Chris was an operator at his local MDA Telethon for more than 20 years.
"All the kids I've seen during the Telethons really touch my heart," Chris says. "I volunteered at the Telethons each year because I want to help these kids walk someday."
Along with his volunteer support, Chris has made a generous gift to MDA in his will.
"I am satisfied my estate plans are in place. I hope my gift will help MDA find a cure for muscle diseases, sooner rather than later. My goal is to help others achieve their goals and MDA's mission of finding cures is an important one."