Dorothy Bursey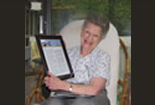 What a pleasure for MDA to re-establish a relationship with Dorothy Quinn Bursey! Dorothy is no stranger to MDA. As a matter of fact, you could call Dorothy a "walking history book" of all things MDA related. She remembers wonderful details about MDA annual meetings in the 1950s. She recalls meeting Jerry Lewis and Paul Cohen (MDA's co-founder and first president).
In the late 1950s, Dorothy and her husband, Reese "Buck" Bursey (now deceased), founded the Mid-Columbia (Washington state) Chapter of the Muscular Dystrophy Association of America, as MDA was known in those days. Dorothy and Buck recruited friends and neighbors to help raise funds to support research, programs and services for those with neuromuscular diseases.
In an October 1957 letter Dorothy wrote to President Dwight D. Eisenhower about MDA's historical beginnings when five families with children with muscular dystrophy banded together to do something to try to find treatments and cures. The efforts of these five families eventually resulted in the creation of the Muscular Dystrophy Association of America (MDAA) in 1950. Dorothy spoke of "the fighting, independent spirit of America burning as brightly in 1957 as it ever did before."
Dorothy received a response from Eisenhower's office written by Walter Williams, undersecretary of commerce. Mr. Williams spoke admiringly about Dorothy and others who had taken up the fight against muscular dystrophy. He wrote that it was both heartwarming and truly inspirational that there were people "... who refused to accept the prevailing medical fatalism about the disease ..."
In 1959, while volunteering for the Mid-Columbia Chapter, and with a operating budget of $497.30, Dorothy and her team raised over $12,000 by setting out coin canisters at businesses and doing house-to-house March Campaigns during the cold, snowy months of winter – quite a return on investment! Adjusted for inflation, this equals $87,500 in today's dollars. Under the Burseys' volunteer leadership, the Mid-Columbia Chapter of MDAA was one of the best chapters in the U.S.
Dorothy recalls conversations with people as she went on those house-to-house March Campaigns. Some told her she was crazy for doing what she did. She always responded with a smile and said, "I will walk miles and miles in the cold and snow to help those in wheelchairs who can't walk at all."
You see, Dorothy was inspired to support MDA because, by 1957, she had lost an uncle and brother to complications caused by Duchenne muscular dystrophy (DMD), and had a child with the disease. In 1967, Dorothy's son, Thomas, also passed away from complications of DMD, at the age of 24.
Dorothy has accomplished much in her life besides helping MDA. In 1947, she was instrumental in getting special education classes established in the public school system in the state of Washington. In 1956, the state named her "Woman of the Year" for outstanding community service. She worked as a volunteer in the Nixon White House from 1970 to 1975, and in 1984, served as a Reagan delegate to the Republican National Convention. She remained active in Republican politics after moving to North Carolina in 1985, and was inducted into the North Carolina Republican Hall of Fame in 1999.
To this day, Dorothy still is doing her part to support MDA. Through materials provided by MDA, she learned about estate planning, created an estate plan, and recently informed MDA that she has remembered the Association in those plans by giving a large percentage of her estate to MDA upon her passing.
Today, 89 years into her wonderful life of helping others, Dorothy is still leading by example. Her lifetime of action and support for MDA has meant a lot to the Association's fight against muscle-wasting diseases.
With people like Dorothy in our corner, we cannot fail! Please follow her lead – provide help and hope for those who need it. Make a gift to MDA through your estate plan. Thank you, Dorothy!