Josephine Neff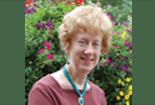 Some 30 years ago while in her thirties, Josephine Neff of Franklin, Wisconsin began to experience weakness in her lower extremities and difficulty in managing stairs, resulting in an eventual fall. That year, while watching the MDA Telethon, it occurred to her that she might be affected by muscular dystrophy. After seeing several doctors and a neurologist, she was diagnosed with LGD, limb-girdle muscular dystrophy.
Although the disease has challenged her for most of her adult life, she was able to continue working at a major newspaper in Milwaukee until her retirement in 2002. Like many other individuals, Josephine readily admits to Mattie Stepanek's influence on her life for his incredible attitude and courage. During a very successful career she took advantage of the opportunity to purchase company stock to supplement her income and to enhance her future.
Her generosity and commitment to MDA has been reflected in numerous donations over the years. When she learned about charitable gift annuities, she found another way to make a larger gift to the Association, to continue to help others, and to increase her own financial security. By donating a portion of her securities to MDA, she qualified for a significant capital gain deduction and now receives a guaranteed, monthly return on her investment for the rest of her life.
Josephine hopes that her Charitable Gift Annuity with MDA will help to fuel the fight against neuro-muscular diseases and to ensure a better future for generations to come.