Judy Kaszas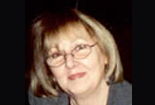 Judy Kaszas is one of the newest members of our Legacy of Help & Hope Society, but she's no stranger to MDA. Judy's desire to help MDA started decades ago when she was a child and met "Dickie," the baby son of one of her mother's friends. She couldn't understand why the child couldn't walk and support himself like others. Judy's mother explained that "Dickie" was sick, and that money was needed to help find a cure.
That's all Judy needed to hear. She started a lifetime of helping MDA. Judy collected "nickels and dimes" on the street corner to deliver to the local MDA Telethon's "Wishing Well" every year. When she was old enough, Judy began volunteering at the Telethon and has been doing so for the last 25 years.
Judy relayed a story about the location of her local Telethon and how it has changed several times over the years. Since Judy doesn't drive, she uses public transportation to get to the Telethon location so she can fulfill her volunteer commitment to MDA. Judy, who doesn't mind the location changes, says "I'll do whatever it takes to get to Telethon so I can do my work for Jerry's Kids. Besides, since the Telethon is always over the Labor Day weekend, public transportation has reduced fares on holidays, and I consider that a bonus!"
Judy also has found other ways to help MDA. She recruits her friends to join her as event volunteers, and she volunteers at other MDA events such as MDA's Muscle Team event in New York.
Recently, Judy found one more way to assist MDA. She realized that by making MDA a partial beneficiary of her estate, she can make the ultimate gift without distributing any current income or assets. Upon completion of her estate plan, Judy said: "I can't imagine my money doing more good than it can in the hands of MDA. My estate isn't big, but I'm doing my part to help find a cure!"
Like other Legacy Society members, Judy hesitates to accept gratitude. "I am not a hero," she says. "Everybody should be doing something to help other people. This is the way the world should be."
Now there's a message that's worth repeating! Please take Judy's advice, and join her as a member of MDA's Legacy of Help & Hope Society. Judy Kaszas is a hero in MDA's eyes, and you can be one too! Please let us know if you make MDA a beneficiary of your estate, and we'll make sure that your gift is used to help find treatments and cures for neuromuscular diseases.