Donald and Barbara Graham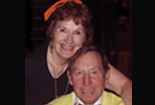 Donald Graham retired from the Lakewood Fire Dept. (in a suburb of Cleveland) as assistant chief after 25 years of service. He and his wife, Barbara, have nine children, including two sons who are fire fighters also. Donald and Barbara's involvement with MDA originated because of the active role their son Scott (Otto) has played in the local MDA Chapter and in raising funds for MDA through the Cleveland Fire Department.
For 20 years, Otto's commitment to MDA helped increase the fire department's annual fundraising program from approximately $20,000 to $180,000 through traditional "Fill-the-Boot" drives and charity golf outings. Donald and Barbara were drawn even closer to MDA after losing a very good friend to ALS and learning that MDA is the leader in ALS research.
They would like to be able to make an outright gift to the Association, but they don't feel they have the means to do so. After careful consideration, they realized that a charitable gift annuity could provide an opportunity for a win-win situation ¦a substantial gift to MDA and security for their future. Their gift annuity not only ensures continued research progress but also provides immediate tax benefits for the Grahams and a fixed income stream for the rest of their lives.
Donald and Barbara Graham made their generous gift in honor of the Cleveland Fire Fighters' heroic efforts and their long-standing commitment to MDA's mission, with the hope of providing a brighter future for individuals with neuromuscular disease and their families.