Paul Fafard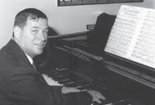 Paul Candide Fafard, the youngest of eight children, has experienced a life full of challenges, achievements, recognition, joys, sorrows and most of all, hope. His challenges began early, when his mother passed away just three months after his birth. His father was distraught, and may have partly blamed Paul for her death. His father sent him to an orphanage where he remained for six years before his father reclaimed him.
By the age of 8, Paul was playing violin in the Fafard Family Ensemble with his father, stepmother and five of his siblings, all of whom were talented musicians. The Ensemble appeared in New York City's Town Hall in November, 1950. Paul's father was a disciplinarian and task master with all of his children, so as soon as Paul turned 18, he struck out on his own and enlisted in the Army. Because of his musical talents, Paul was assigned to the Army Band. After his service, he worked in the U.S. Post Office and retired after 30 years of service.
During all those years, Paul was never far from his music. He was always composing on his instrument of choice, the piano. In 1987, one of Paul's compositions entitled "Philadelphia, 1787" was aired on the CBS television special, "We the People . . . The Constitutional Gala." In 1988, Shirley Jones, Vicki Carr, Gary Morris and the U.S. Naval Academy Glee Club sang some of Paul's Christmas compositions for President and Mrs. Reagan during NBC's broadcast of the 7th annual "Christmas in Washington" gala. These have been just a few of Paul's achievements, which brought him both joy and recognition.
No life is full of only wonderful things. While living in the upper west side of New York City for the last 45 years, Paul has been the victim of eight different muggings, but he is grateful that he has never been injured. Four of Paul's brothers have passed on, and he too, inherited the heart disease that took his brothers' lives. These are some of the sorrows Paul has experienced.
Nevertheless, Paul continues to have hope. He considers himself "a work in progress until my last day on Earth." He hopes to have more music published. He hopes to be alive when MDA's research produces more treatments – perhaps even cures – for neuromuscular diseases. If he is not alive to see those breakthroughs, Paul has arranged for his hope to live on through the bequest he made to MDA in his Last Will& Testament so that MDA can continue its efforts to eradicate muscular dystrophy and related diseases.