Anna Koval Korop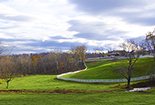 Anna Koval knew exactly what she wanted out of life. Born in 1917 and raised in a closely-knit family in North Dakota during the Great Depression, she dreamed of having a family of her own. She married Jack Korop and they relocated to Oregon to pursue his career. They were thrilled when their first child, a girl they named Edris, was born in 1948.
In 1952, at the age of 4, Edris was diagnosed with Limb-Girdle muscular dystrophy, a group of disorders affecting voluntary muscles mainly around the hips and shoulders. Determined to ensure the best quality of life for her daughter, Anna researched what services and medical equipment were available and obtained a power wheelchair, hospital bed with floating mattress and Hoyer lift. Edris attended the public school system and her family was proud when she graduated from high school.
Warmhearted and generous in nature, Anna devoted herself to her daughter's care in their home. After Jack passed away in 1978, Anna reached out to the local MDA Chapter in Eugene, Oregon. MDA had already provided informational assistance and medical equipment, but now Anna was hoping for more—and she was relieved to find it available in abundance. Local MDA staff involved Edris and her mother in a support group, home visits, phone calls and cards of encouragement, transportation to appointments and routine servicing of Edris' equipment.
After Edris passed away in 2001, Anna stayed in touch with her friends at MDA. She wrote her will to include MDA as sole residuary beneficiary. Following her death in 2012 at age 95, Anna's longtime attorney, Tom Wurtz, confirmed Anna's sincere respect and gratitude for MDA: "Anna greatly appreciated the work [MDA is] doing and the benefits available through your organization."
Anna's legacy is just one example of how gifts to MDA through estate plans help impact the future for kids and adults living with neuromuscular diseases like Limb-Girdle muscular dystrophy. By including MDA in their plans, many donors like Anna continue to touch countless lives.