Roberta Peters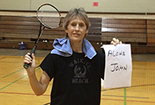 Roberta Peters has been active all her life. She taught physical education and coached students of all ages for 25 years.
Now retired and living in Hawaii, Roberta keeps physically fit by running up the two flights of steps at her home, body surfing and playing Olympic-style badminton.
"To stay in shape you have to do something you love, and I'm in love with badminton. It's the most fun game I've ever played, and it's a great workout."
Roberta never takes her good health for granted. In fact, she treasures it probably more than most people because she watched both her mother and aunt live with ALS—amyotrophic lateral sclerosis or Lou Gehrig's Disease.
"My late aunt was diagnosed with ALS first, and she used a wheelchair and wasn't able to speak," Roberta explained. "My mom had bulbar onset ALS, so her speech was slurred and I had to grind her food because she had difficulty swallowing. She also insisted on trying to walk even though she had a limp."
During the time Roberta cared for her mother before she passed away, MDA was there to help. "MDA provided us with information about her disease and even gave her a scooter when she needed it," Roberta said. "I'm so appreciative for what MDA did for my mom."
Because MDA was there for her mother when she needed help, Roberta has made a generous commitment to MDA through her estate plan. As a member of MDA's Legacy Society, Roberta's generosity will help accelerate treatments and uncover cures for ALS and other related life-threatening diseases.
"My dream is to end ALS," Roberta said. This gift in my estate plan, in my mother's and aunt's name, is designated for ALS research because I want a cure."