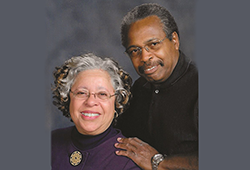 Living with a muscle-debilitating disease is never easy for a child. For Sharon Shepherd, a young African-American girl growing up in the early 1950s, it was especially challenging. "[As a child] I was never able to run and navigating stairs was always difficult," Sharon said. "I wasn't officially diagnosed with spinal muscular atrophy until I was a young adult. It was then MDA came into my life."
After Sharon's diagnosis, she found helpful resources through MDA by attending a local support group, watching the MDA Telethon and visiting an MDA Care Center. "MDA has always provided the assistance and support I need. That immediate help is so important," Sharon said.
Thanks to her determined spirit, Sharon went on to serve as an Administrative Assistant to four directors of a local community center, the head librarian of a local college and later to own a temporary staffing agency. Sharon currently serves on the Advisory Board of the Booker T. Washington Community Center/YMCA and is President of the Deacons' and Ministers' Spouses group at her church.
Sharon and Bill, her husband for 46 years, have one son and two grandsons. Always looking for a new challenge and something to keep her occupied, Sharon is currently seeking new employment. She firmly believes, no matter the age or condition, "a mind is a terrible thing to waste." Arthur Fletcher, former head of the United Negro College Fund, coined the well-known phrase.
Sharon wants to continue to help transform the lives of kids and adults living with life-threatening diseases. That's why she has included MDA in her estate plan—to help improve the lives of families for generations to come. "Funding is needed for both research to find cures and to help people living with muscle disease go about their everyday lives. I hope my gift will help MDA with both research and advocacy."