Dr. Robert Edgar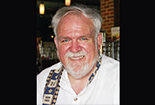 Dr. Robert Edgar is full of surprises. This native of Oklahoma is a mild–mannered gentleman whose outward appearance is that of a distinguished professor.
In fact, Bob Edgar is not only a distinguished professor, he is also the director of graduate studies for the Department of African Studies at Howard University in Washington D.C. (a historically black university). His work and research has focused on South Africa, where he has spent a great deal of time during the last four decades. A prolific author in his field, Bob has been the recipient of numerous professional awards and recognitions. The New York Times even branded Bob Edgar as the "Indiana Jones of South Africa" based on his exciting historical investigations of southern Africa's political and religious history, and his quest to return the remains of a South African prophetess from her unmarked pauper's grave back to the village that had been her home.
Bob's love of Africa, its history, and its people is also deeply personal. While spending time in the country of Lesotho, he met a young boy named Leteanne who had been diagnosed with osteogenica imperfecta, or brittle bone disease. Bob later arranged to legally adopt Leteanne and brought him to live in the United States, where he is thriving.
Around the age of 6, Bob was diagnosed with Charcot–Marie–Tooth disease (CMT). Two of his three brothers also have been diagnosed with CMT, and therefore MDA has been part of his family since his childhood. Despite his CMT, Bob describes himself as having lived a full life, and after hearing just a few stories of his adventures in Africa, it is clear that is an understatement.
Bob knew that he wanted to leave a gift to MDA through his estate plan for a long time, but he was unsure of exactly what type of gift he wanted to make. He was also unsure how to make it. While attending an MDA–sponsored educational seminar called Estate Planning for Families with Disabilities, Bob learned what he needed to do to create the right kind of estate plan for himself and his son, and how MDA could be a part of that plan. With the help of a local attorney, Bob created a special needs trust that will provide for his son as part of his overall estate plan. Bob also generously named MDA as a residual beneficiary of his son's special needs trust.
As a member of MDA's Legacy of Help & Hope Society, Bob has created an estate plan that ensures financial support and care for his own special–needs son, and a gift that will enable MDA to continue funding cutting–edge research into treatments and cures for neuromuscular diseases.
Please join Bob as a member of MDA's Legacy of Help & Hope Society by creating a bequest to MDA in your Will, or by giving another type of special gift such as a life insurance policy, or a charitable gift annuity.