Linda Durisek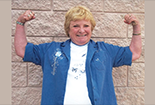 A devoted mother of three sons, and a doting grandmother to five beautiful grandchildren, Linda "Scotty" Durisek, has a soft spot in her heart for kids and a willingness to help whenever she sees a need. Scotty first became involved with MDA through her employer, Jack Gaughen Realtor ERA, in Harrisburg, Penn. It was at an MDA event sponsored by her employer that Scotty first met one of the families served by MDA, which touched her heart deeply. Since then she has helped organize and support many different fundraising events for MDA, including a company picnic and golf tournament.
A native of Nova Scotia, Scotty has never hesitated to become involved in her community or to give help to others in need. From leading scouting troops, to serving on the boards of various charities, to simply bringing groceries to an unemployed acquaintance who couldn't afford food, Scotty is always there to make a difference in the lives of people in her community. She enjoys participating in many local volunteer activities and has a special affinity for helping children. MDA is an important charity to support, according to Scotty, "because of all the good the Association does for the kids."
It is no surprise that when Scotty decided to make a gift to MDA by purchasing a life insurance policy and naming MDA as the beneficiary, that she actually found a way to do two good deeds at the same time. Not only did she do something good by making MDA her life insurance beneficiary, but she also purchased the policy from a friend who sold life insurance and who was desperately in need of making a sale. By naming MDA as a beneficiary of her life insurance policy, Scotty will help MDA find better treatments and cures for neuromuscular diseases, all without distributing any of her current income or assets.
As a member of MDA's Legacy of Help & Hope Society, Scotty has ensured that her lifelong tradition of helping others can continue beyond the end of her own life. Please join Scotty as a member of MDA's Legacy of Help & Hope Society by naming MDA as the beneficiary of a life insurance policy, or by giving another type of special gift such as a bequest from your estate or trust, or a charitable gift annuity.