Sandra Daniels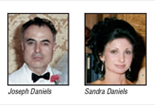 Joseph Daniels emigrated from Persia (now known as Iran) in 1927, at the age of 14. His family moved from Detroit to Chicago, where he met and married his wife, Florence, who also had emigrated from Persia.
A hard-working accountant who loved to play violin, Joseph always put his family first. In the summer of 1954, he took the family on a vacation to Turlock, Calif., so his children could visit their grandparents – Joseph's parents – who had retired there.
Sandra, the oldest of Joseph's four daughters, remembers traveling cross country in the Super Chief, the flagship of the Atchison, Topeka and Santa Fe Railway. In its day, the Super Chief set the standard for luxury rail travel in the U.S. Sandra remembers the luxury, but sadly, she also remembers tragedy associated with the trip. Her 17-month-old brother died in an accident during the vacation.
A second tragedy struck the family in October 1972, when Joseph received a diagnosis of ALS (amyotrophic lateral sclerosis), a disease that causes near-total paralysis and death, usually within five years of diagnosis.
Toward the end of her father's life, Sandra fed and washed and cared for him nearly full time. One day, she recalls, she was unable to fight back tears while caring for him. But Joseph, always the strong one, said to her, "Do not despair; there is nothing you can do." At once, Sandra realized her father was resigned to his fate. Joseph, who never complained about his condition, quietly passed away from complications of ALS in January 1974, just 15 months after diagnosis. More than three decades have passed since then, but Sandra has never forgotten the effect of the disease on her father, on her, or on the rest of her family. She vows, "The three words "amyotrophic lateral sclerosis" are the three ugliest words I know; I hate ALS!" It was devastating for her to watch her relatively young, vibrant, healthy, handsome father become trapped in a body that would no longer work.
In many ways, Sandra takes after her father. She too is vibrant, healthy and hard-working. Sandra works both as an administrative assistant for a software consulting firm and as a rental property manager, helping tenants resolve problems. In other words, Sandra helps people – helping others is what motivates her.
In memory of her father, Sandra wanted to make a gift restricted to ALS research. She wanted the gift to be from her estate after death, but she wasn't sure how to make those plans.
Then a close friend reminded her about MDA. Sandra got in touch with the Association's Special Gifts and Philanthropy Department, where she received the guidance she was seeking, and made arrangements for a gift in memory of her beloved father, Joseph Daniels.
Sandra's gift most definitely will help other people. This is her legacy. What will your legacy be?