Robert Cooper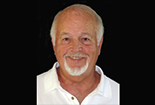 Robert "Coop" Cooper has spent a lifetime helping others. He's busier now on a typical day in retirement than he ever was in his 31 years as an AT&T data communications technician. In fact, membership in AT&T's Pioneers, a group dedicated to volunteerism, opened up a new world of opportunities for Bob when he retired.
Coop was born 68 years ago in Detroit, Mich. His father worked for U.S. Tire & Rubber Co., and his mom operated a style salon in their home, where many of his female classmates came to have their hair done. Coop's parents attended church on a regular basis and were always ready to lend a helping hand to those in need. They led by example and those values became a part of who Bob Cooper is today.
Interestingly enough, Coop was born into a family with strong ties to the old Bell Telephone Co., which later became known as American Telephone & Telegraph (AT&T). His grandmother was a switchboard operator and gave birth to Bob's mother in the telephone office where she worked. Bob's uncle was a telephone lineman for the county.
Before settling into his career with AT&T, Coop took computer programming classes at Henry Ford Community College and did a four-year stint in the U.S. Air Force as a jet engine mechanic. When AT&T transferred him to Georgia, Coop volunteered with the International Horse Park, earning him AT&T's "Employee of the Month" award. His volunteerism soon expanded to the Charlie Elliot Wildlife Center in Mansfield, Ga.; the 1996 Atlanta Summer Olympics (as table tennis coordinator); his church; and local youth organizations.
Currently, Coop is a member of a volunteer group called "God's Hope Builders." The group builds churches and wheelchair ramps and Coop's "Stick Work" crew also has volunteered for Habitat for Humanity. Coop's construction skills are used by his church's Building and Grounds Committee as well. Coop quietly fills each day to the brim by helping others, reserving each Thursday for his local horse rescue and rehab center. By the time this story goes to print, Coop and Hope Builders will have helped build a Family Life Center addition to a church in Cordele, Ga.
Everyone needs to have a person like Coop in their lives so they can see how much one set of helping hands can accomplish for the greater good.
Support of the annual MDA Labor Day fundraising show (previously called the Telethon, now renamed MDA Show of Strength) was a tradition with the Cooper family, so it isn't a surprise that Coop has volunteerism in his blood. As a single man with no children of his own, Coop developed a strong compassion for the children featured on the MDA show over the years. As he explained, "Those wonderful kids and adults had no say in their disease. They often faced insurmountable challenges. 'Jerry's Kids' became my kids."
Coop has led a lifetime of servant leadership, and his bequest to MDA is just one more example of how a servant leader provides help and hope not only during his or her lifetime, but also after death. Coop's decision to make a bequest to MDA demonstrates "leadership by example" and he hopes others will follow in his footsteps to ensure that MDA's research and medical services will continue to offer help and hope until the day comes when everyone will have a chance to live life free of muscle disease and their resulting physical challenges.
Coop's legacy gift to MDA will mean we can continue to advance promising research that will result in "building healthy muscles" for generations to come.